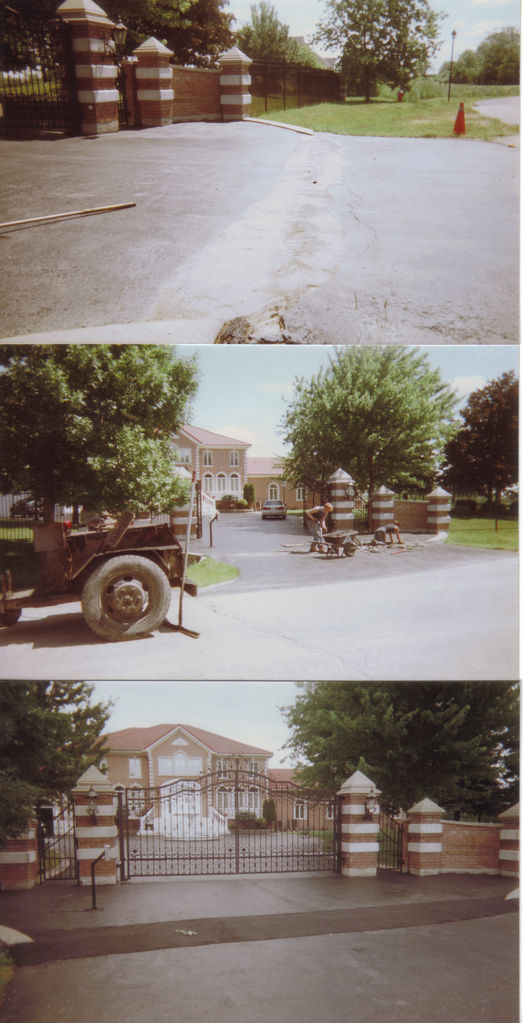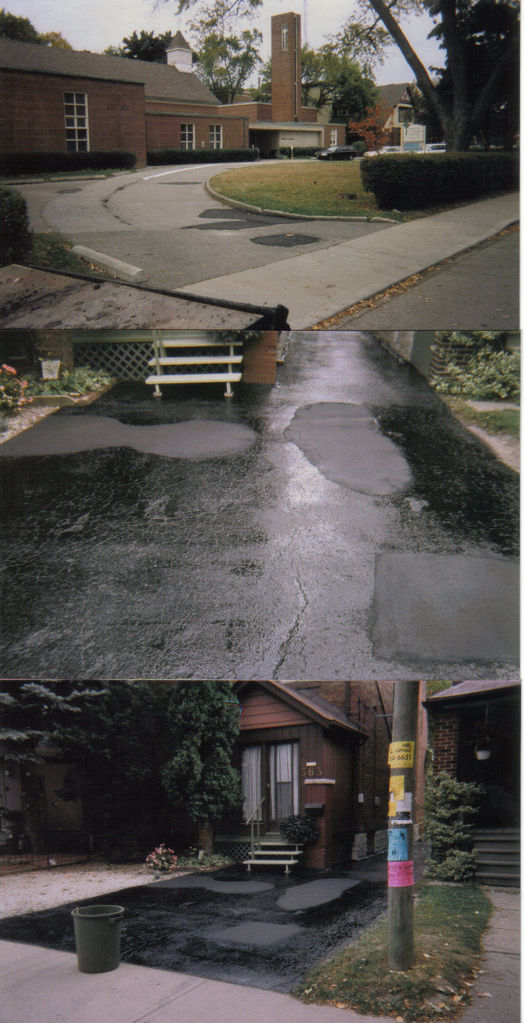 Asphalt
Asphalt is technically a liquid. It is the asphaltic cement that binds your driveway together. Liquid asphalt, sand & gravel. Asphalt is a natural formed substance, from amoeba formed from decayed vegetation being trapped below ancient lakes & glaciers during the ice age. Alberta tar sands, Lake Venezuela, Pitch Lake in Trinidad as well as some smaller ones in California to name a few. Asphalt is porous & needs to breath. Unlike concrete* asphalt is flexible & will bend before it cracks. Until it is old & oxidized ( see the sealers pg. ).
* Concrete is extremely strong and rigid, when poured to a thicker dimension it needs no base ( aggregate ) "slab on grade". But asphalt can be laid way thinner & achieve similar results. By using an aggregate base which is much more cost effective. Watertight flexible, seal-able & patchable. Cheaper to remove & replace. They both have pros & cons. Concrete's rigidity is both it's strength & it's weakness. Asphalt's flexibility is also it's strength & it's weakness. A 1" layer of asphalt on 4" of base is an extreme minimum, but I've seen 20 yr. old driveways that didn't have much more. Inside away from the frost, I have a house that was built in 1883-6 that has an original concrete basement floor that is 1" thick on top of sand; without a crack in it. But outside I've seen a 8" thick sidewalk crack. The average industrial parking lot has about 4" of asphalt but lots of base, which is cheaper. ( see more about concrete on the glossary pg. ).
Paving
There are 3-6 common grades of asphalt. HL1A, HL2A, HL3A & HL3, HL6 & HL8. HL1A: used for fine patching & crack repair. A sand-mix. Not available everywhere. HL2A: used for recapping* existing residential driveways. Beautiful finish, but not super strong & more susceptible to oil penetration. Great all round use for patching residential & commercially. HL3 & HL3A: used for all paving of roads, parking lots & driveways. One course residential, or top course ( recap ) commercial & industrial. HL3A has more sand. H = hot, L = liquid, 3 = 3/8", A=extra sand. Therefore HL6 = 6/8" or 3/4" stone. HL2A = 1/4" stone with extra sand. HL1A has hardly no stone & could be called HLA, & is usually just called sand-mix. HL6 & HL8: used for a base course for commercial & industrial lots. Very strong but not good without a top coat. The stones pop out & it develops potholes very fast. A finer coat on top becomes burnished & is more resilient.
For special offers & FREE DISCOUNTS see the CONTACT US page.